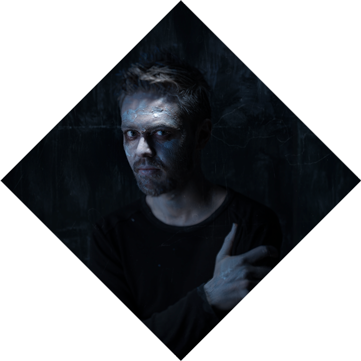 Drums
Hannes Grossmann got his first professional obligation as a drummer in 2003, when playing on the tech-death benchmark album "Epitaph" by German band NECROPHAGIST. Hannes is known for his work with OBSCURA, with whom he released the two critically acclaimed albums "Cosmogenesis" and "Omnivium", writing many songs for the band and being the main arranger & composer. After leaving OBSCURA, he's playing for his main band Alkaloid and for U. S. technical extreme metal supergroup Blotted Science (feat. Ron Jarzombek and Alex Webster).
Hannes also released a solo album ("The Radial Covenant") on which he plays drums and rhythm guitar.
Hannes is a very active clinician, having played at many drum festivals such as the Dresden Drum Festival, Meinl Drum Festival or the Adams Drumworld Festival, among other masterclass performances & clinic tours. Hannes released an instructional DVD in 2011 entitled "Progressive Concepts for the Modern Metal Drummer". Furthermore he wrote a drum book entitled "Extreme Metal Drums", which was published in early 2013 by Hal Leonard Co.
When not playing live Hannes does a lot of session work for musicians all around the globe and runs his own professional "Sound-of-Mordor" recording & mixing studio.
Hannes Grossmann uses Tama drums, Meinl cymbals, Evans drumheads and Vic Firth sticks exclusively. Hannes also endorses Rode microphones.
 Further information: